About First Team Inc.
In 1996 Wayne Unruh and Jeff Roth co-founded First Team Sports, Inc. based in Hutchinson, Kansas.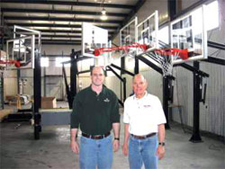 "At that time we were using my garage as warehousing and my basement as our first office", says Wayne Unruh, president of First Team. From there things took off for First Team, quickly becoming known as one of the finest manufacturers of outdoor and indoor basketball equipment in the country. In the beginning of 1997 First Team was moved to a more suitable location on Lorraine Avenue in Hutchinson. A large converted parking garage was renovated to provide the necessary space for backboard construction, packaging, warehousing and shipping. First Team's new home provided the opportunity for even stronger growth as First Team's reputation as a basketball manufacturer grew into other sports such as soccer and volleyball. In 2004, after seven years at Lorraine Avenue, space requirements led First Team to construct its own larger facility at 902 Corey Road in Hutchinson.
"The move to the new facility not only added the additional space we needed, it increased our efficiency because we were able to move all operations under one roof." - Wayne Unruh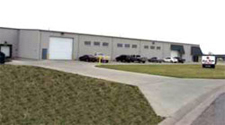 The new facility also affords First Team the surrounding area needed to focus on future growth. "Our new player benches and bleachers are examples of the continuing product development that contributes to the need for additional space at First Team", adds Unruh.
First Team is dedicated to domestic manufacturing. At First Team "MADE IN THE USA" is more than just a slogan, it's a way of ensuring quality. In an industry where more and more companies are shipping manufacturing jobs "offshore" First Team continues to provide jobs building high quality, affordable products, manufactured here in the USA.
"Our production workers are the best in the industry. Communication is the key and nobody does it better than First Team." - Jeff Roth
First Team's production workers are highly involved with engineering and sales staff allowing First Team to more efficiently implement product improvements, bring new products to market and react to customer needs. "It's nice to see your suggestions implemented. It shows First Team values its employees." -Danny Chambers
First Team distributes its products through its nationwide network of authorized dealers. The dealers are experts at directing customers to the right equipment for the job.
"They (First Team dealers) are well educated about our equipment and always eager to learn about new products we're introducing. Our dealers are our greatest assets. They are not only our dealers, they are our customers and we work tirelessly to support their efforts." - Wayne Unruh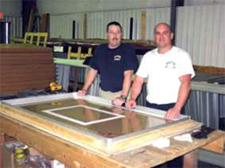 W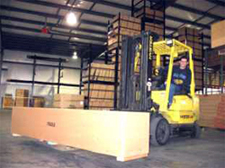 hen customers call First Team they expect to get questions answered quickly and have products shipped promptly. First Team strives to deliver on those expectations every time. Large inventories allow First Team to quickly fill customers' orders. "If a customer needs it shipped the same day, we can usually come through for them" says shipping manager Eric Bontrager. First Team's friendly, knowledgeable customer service staff is unrivaled in the industry. Their extensive experience in the sporting goods market means customer service personnel at First Team are able to do more than just take orders, they are problem-solvers.
"We're always looking for new ways to meet the needs of our customers no matter how unique or challenging they may be." – Kerry Reimer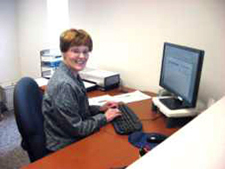 First Team's dedication to quality assurance, commitment to MADE IN THE USA, fast and friendly customer service and network of over 1000 dealers nationwide, are the cornerstones of First Team's widespread growth across all sports categories. Join the thousands of athletic directors, coaches, facility directors, equipment managers and homeowners who trust First Team to provide the safest, most durable and dependable products available every time. Call today and let First Team's friendly, courteous customer service staff show you why First Team is number one in innovation and customer satisfaction before, during and after the sale!