Does a Warranty Cover Slam Dunks and Hanging on the Rim?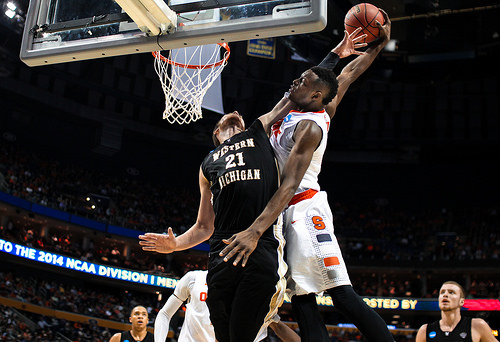 Once upon a time, dunking was against the rules in college basketball games. Then, even after those restrictions were relaxed, it long remained illegal to dunk during warmups of a high school basketball game. There's no doubt that the sport was slow to adapt to the revolution of the jam. But, now that the sport is played above the rim so much more often than it ever used to be, the question is, if you buy a basketball hoop, does the manufacturer's warranty cover damage caused by slam dunks or hanging on the rim?
Of course, if you're buying a hoop for your three year old, this probably won't be an issue, until they sprout to a formidable height and develop some genuine "ups," or the ability to leap like a pogo stick. But if the hoop you own is going to be used by some serious 'ballers, it still may not be guaranteed against damage from the abuse heaped upon it by dunking or hanging on it. Because of this, a direct mount breakaway rim that holds up well against the force of slams is a feature in high-end hoops that is much more important for a basketball system that will be used by serious players than it would be if the backboard is going to be used primarily by youngsters just developing their games.
However, there are now plenty of backboards that are made to "grow" with your developing young player, and some of these hoops/backboards can be lowered to 5 feet to ensure that you don't compromise on form. And don't think for a second that a youngster who watches the pros on TV won't try to imitate them by trying his or her own version of a youthful dunk. First Team was the first manufacturer to offer basketball systems that are warrantied against hanging on the rim and remains among the few manufacturers who do.
Is there a warranty that covers slam dunks and hanging on the rim?
Most other manufacturers units void their warranty if you hang on the rim. Make sure you read the fine print and check out the warranty that's included. It's the best thing you can do to ensure everybody's safety as well as to protect your investment.